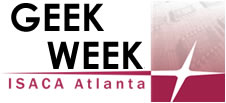 The 4th annual  Atlanta Chapter of ISACA GEEK WEEK conference was held the week of August 22nd – 26th.  GEEK WEEK is a track-oriented, full week Conference focusing on providing training, networking, and roundtable sessions on IT governance, audit & security.
I conducted the presentation Wireless Auditing on a Budget:  Using Low Cost Hardware and Open Source Software.  You can find the presentation slides here.  For links and information on the other presentations you can go here.
1.21.2014 – Since the Atlanta Chapter of ISACA website has changed the presentations can only be found on the Internet Archive where I updated the link above.  I also went and downloaded all the presentations available and provided them here.